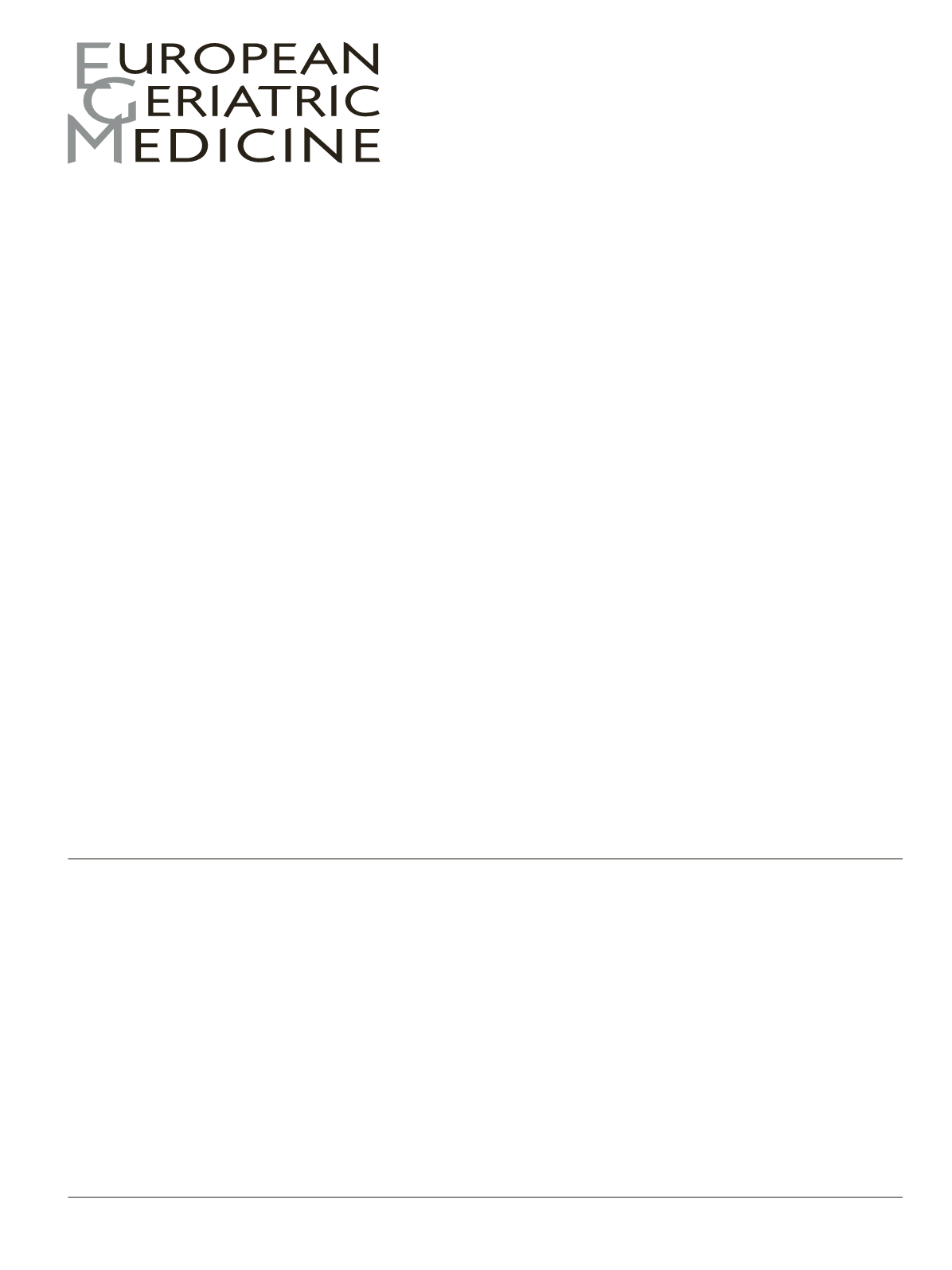 EDITOR-IN-CHIEF
Jean-Pierre Michel (Geneva University, Switzerland)
jean-pierre.michel@unige.ch
ASSOCIATE EDITORS
Athanase Benetos (University Hospital of France, Nancy, France)
Jean Bousquet (University of Montpellier, France)
Alfonso Cruz Jentoft (Hospital Universitario Ramón y Cajal, Madrid, Spain)
Stefania Maggi (University of Padova, Padova, Italy)
Cornel Sieber (Friedrich Alexander University, Nuremberg, Germany)
Timo Strandberg (University Hospital Helsinki, Finland)
Eva Topinkova (Charles University, Prague, Czech Republic)
EDITORIAL BOARD
Jean-Pierre Baeyens (Luxemburg), Hubert Blain (France), Marc Bonnefoy (France), Mustafa Canturkaran (Turkey), Antonio Cherubini (Italy),
Thierry Chevalley (Switzerland), Simon Conroy (UK), Peter Crome (UK), Vito Curiale, (Monaco), Johan Flamaing (Belgium), Manfred Gogol
(Germany), Tomasz Grodzicki (Poland), François Herrmann (Switzerland), Tomasz Kostka (Poland), Frauke Muller (Switzerland), Desmond
O'Neill (Ireland), Mirko Petrovic (Belgium), Kaisu Pitkälä (Finland), Giuseppe Sergi (Italy)
INTERNATIONAL EDITORIAL BOARD
EARLY CAREER RESEARCHERS
Mark Ahmed (Norway), Cornelius Bollheimer (Germany), Isabelle de Brauwer (Belgium), Claire Falandy (France), Rossella Liperoti (Italy)
Barbara van Münster (Netherlands)
ACADEMIC BOARD OF THE EUGMS (2014–17)
Avan Aihie-Sayer (England), Antonio Cherubini (Italy), Alfonso Cruz-Jentoft (Spain), Tomasz Grodzicki (Poland), Kiyoka Kinugawa-Bourron
(France), Mirko Petrovic (Belgium), Kaisu Pitkälä (Finland), Cornel Christian Sieber (Germany)
EUGMS Secretariat Vienna
Berggasse 17/3/28
A-1090 Vienna
Austria
Tel.: +43 (0) 1 319 4505 15
E-mail:
secretariat@eugms.org
www.eugms.org
To submit articles to the journal, please use the following site:
http://ees.elsevier.com/egm
European Geriatric Medicine (ISSN 1878-7649) 2015 (volume 6) One year, 6 issues 332 euros. For more information see:
http://www.journals.elsevier.com/
european-geriatric-medicine/
Address order and payment to Elsevier Masson SAS, Service Abonnements, 62, rue Camille-Desmoulins, 92442 Issy-les-Moulineaux cedex:
Payment by check or credit card (CB, MasterCard, EuroCard or Visa: indicate number and expiration date); by transfer: « La Banque Postale »,
Centre de Paris, n
o
RIB : 20041 00001 1904540 H 020 95.
Subscriptions begin 4 weeks after receipt of payment and start with the first issue of the calendar year. Back issues and volumes are available
from the publisher. Claims for missing issues should be made within 6 months of publication. Includes air delivery.
Journal Manager – Brad Stucky. Tel.: (33) 01 71 16 54 42. Fax: (33) 01 71 16 51 66. E-mail:
b.stucky@elsevier.com
Subscriptions – Tel.: (33) 01 71 16 55 99. Fax: (33) 01 71 16 55 77.
http://www.em-consulte.com/infos
Publisher – Rachel Garland . E-mail:
R.Garland@elsevier.com
General manager and publishing director / Directeur de la publication – Daniel Rodriguez
Author enquiries
For enquiries relating to the submission of articles (including electronic submission where available) please visit Elsevier's Author Gateway
at
http://authors.elsevier.com
. The Author Gateway also provides the facility to track accepted articles and set up e-mail alerts to inform you
of when an article's status has changed, as well as detailed artwork guidelines, copyright information, frequently asked questions and more.
Contact details for questions arising after acceptance of an article, especially those relating to proofs, are provided after registration of an article
for publication.
Subscription conditions, instructions to authors, the contents of each issue as well as the abstracts of the articles published in European Geriatric
Medicine are available on the website of Elsevier Masson:
http://www.europeangeriaticmedicine.com/
Imprimé en France par Jouve, 53101 Mayenne. CPPAP: 0517 T 90359
ISSN : 1878-7649. Dépôt légal à parution.
Hidenori Arai (Japan), Howard Bergman (Canada), Richard Besdine (USA), Juergen Bludau (USA), Piu Chan (China), LiangKung Chen
(Taiwan), Cho KyungHwan (Korea), Tamas Fulop (Canada), Luis Miguel Gutierrez Robledo (Mexico), Dan Justo (Israel), Jian Li (China), Lee
MengChih (Taiwan), Pedro Paulo Marin Larrain (Chile), Carlos Montes Paixao junior (Brazil), Fernando Morales Martinez (Costa Rica),
Joe Ouslander (USA)